God & Ronald Reagan

Ronald Reagan is hailed today for a presidency that restored optimism to America, engendered years of economic prosperity, and helped bring about the fall of the Soviet Union. Yet until now little attention has been paid to the role Reagan's personal spirituality played in his political career, shaping his ideas, bolstering his resolve, and ultimately compelling him to confront the brutal -- and, not coincidentally, atheistic -- Soviet empire.
But it was in his lifelong battle against communism -- first in Hollywood, then on the political stage -- that Reagan's Christian beliefs had their most profound effect. Appalled by the religious repression and state-mandated atheism of Bolshevik Marxism, Reagan felt called by a sense of personal mission to confront the USSR. Inspired by influences as diverse as C.S. Lewis, Whittaker Chambers, and Aleksandr Solzhenitsyn, he waged an openly spiritual campaign against communism, insisting that religious freedom was the bedrock of personal liberty. "The source of our strength in the quest for human freedom is not material, but spiritual," he said in his Evil Empire address. "And because it knows no limitation, it must terrify and ultimately triumph over those who would enslave their fellow man."
From a church classroom in 1920s Dixon, Illinois, to his triumphant mission to Moscow in 1988, Ronald Reagan was both political leader and spiritual crusader. God and Ronald Reagan deepens immeasurably our understanding of how these twin missions shaped his presidency -- and changed the world.
A Life In Letters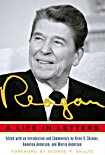 Ronald Reagan may have been the most prolific correspondent of any American president since Thomas Jefferson. The total number of letters written over his lifetime probably exceeds 10,000. Their breadth is equally astonishing -- with friends and family, with politicians, children, and other private citizens, Reagan was as dazzling a communicator in letters as he was in person. Collectively, his letters reveal his character and thinking like no other source. He made candid, considerate, and tough statements that he rarely made in a public speech or open forum. He enjoyed responding to citizens, and comforting or giving advice or encouragement to friends. Now, the most astonishing of his writings, culled in Reagan: A Portrait in Letters, finally and fully reveal the true Ronald Reagan.
Heartfelt advice on love and marriage, fond memories of famous friends from Hollywood, and rare letters about his early career allow Reagan to tell his own full biography as never before. Running correspondence with young African-American student Ruddy Hines reveals a little-known presidential pen pal. The editors also reveal that another long-running pen-pal relationship, with fan club leader Lorraine Wagner, was initially ghostwritten by his mother, until Reagan began to write to Wagner himself some years later.
Reagan's letters are a political and historical treasure trove. Revealed here for the first time is a running correspondence with Richard Nixon, begun in 1959 and continuing until shortly before Nixon's death. Letters to key supporters reveal that Reagan was thinking of the presidency from the mid-1960s; that missile defense was of interest to him as early as the 1970s; and that few details of his campaigns or policies escaped his notice. Dozens of letters to constituents reveal Reagan to have been most comfortable and natural with pen in hand, a man who reached out to friend and foe alike throughout his life. Reagan: A Life in Letters is as important as it is astonishing and moving.
Dear Americans

Dear Americans: Letters From The Desk Of Ronald Reagan
Ronald Reagan's "Handwriting File" contains an archive of thousands of handwritten missives from the president to his constituents, written throughout his eight years in office. Historian Ralph E. Weber and his son have selected the highlights from this treasure trove, creating a uniquely intimate portrait of Reagan at work.

Taking time each week to respond to dozens of Americans who asked him about a tremendous range of issues, Reagan delivered sensitive, eloquent messages to senior citizens worried about the Social Security program's solvency, angry critics of the Star Wars missile defense program, parents of soldiers killed in Lebanon, and children inquiring about details of presidential life. Not all of the recipients were strangers; Dear Americans also features correspondence with close friends of Reagan, both famous and obscure.

Written in a down-to-earth, often gently humorous tone, the letters featured in Dear Americans reveal much about this president's unshakable political convictions, religious faith, and concern for humanity. In the bestselling tradition of When Character Was King and I Love You, Ronnie, this compulsively readable collection will be on thousands of wish lists this holiday season.
Honor The Gipper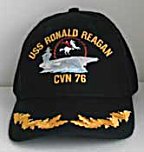 Celebrate the recent commissioning of the U.S.S. Ronald Reagan and honor one of our nation's greatest presidents by wearing the U.S.S. Ronald Reagan Commissioning Ball Cap.
This high-quality cap is the same cap worn by the sailors working on board the U.S.S. Reagan. The embroidered insignia depicts the aircraft carrier and a horse and rider. One row of gold oak leaf clusters, or "Captain's Scrambled Eggs," is on the visor.
This is the perfect way to "tip your hat" to a truly remarkable President!
Quotes From The Great Communicator

Back in 1981, President Reagan restored our optimism and renewed the face of America. But the times, they are a changin'. With the Reagan legacy all but forgotten, Americans are rushing back into the arms of big-government liberals. Amid these dark days, do you sometimes long for words of wisdom from The Great Communicator? Longtime Reagan friend and associate Peter Hannaford shares your desire. So he collected hundreds of the former president's most quotable lines, gleaned from Reagan's entire 30-year public career. Arranged by topic, Ronald Reagan inspires us once again on subjects as diverse as

National defense * Heroes * Gun control * Government * Freedom * Citizenship * Family * Education * The economy * Congress * Ecology * Government regulations * Character * Balancing the Budget * Liberalism * Leadership * Justice * Patriotism * Taxes * Welfare * Schools * Politics * Prayer

Reagan's Faith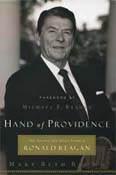 Drawing extensively on Reagan's own writings and firsthand interviews with this family, friends, and coworkers, Brown weaves a magnificent story of Reagan's strong devotion to God from his childhood -- when his devout mother played a big part in developing the young Reagan's character, principles and beliefs -- to his two terms in office, where his reliance on God helped bring down the Soviet empire. Throughout, Brown demonstrates the powerful impact Reagan's faith had on his ideas, rhetoric, policies, and decisions. Some highlights:
Spared for a purpose: how Reagan rededicated his life to Christ after surviving the assassination attempt of March 30, 1981
How Reagan, prepared from his earliest days to deal with varying faith traditions, became the first born-again Christian on the national stage to connect effectively with Catholics
The impact of his mother's strong Christian faith
How, throughout his teenage and young adult years, the hand of God was evident in Reagan's life
The impact of his uniquely Christian education at Eureka College
The path of early failure and disappointment that led to deepened spirituality -- and his career in radio broadcasting
Fame and misfortune: How the spiritual wasteland of Hollywood challenged his faith
How his first marriage with actress Jane Wyman ended in disaster after the death of their child. How he rediscovered his faith to keep him from sinking into depression and despair
"An inspiring story of how a seed of faith is planted in the life of a young man by a diligent and caring mother, how that faith blossomed and changed his life, and how, through him, that faith changed America and the entire world. This book highlights my father's deep reliance on the providence of God and the Christian principles by which he lived. Most writers that have written about him fail to recognize the role his faith played in his life." -- MICHAEL REAGAN, from his Foreword