Be Intolerant

Be Intolerant: Because Some Things Are Just Stupid
"Whatever" is now the password into civilized youth culture. Alarming numbers of Christians eighteen to twenty-five years old believe that there is no such thing as absolute truth. Yet, Ryan Dobson proclaims, we can't even function if we believe that everything is relative. In his first book, the impassioned youth speaker explains God's establishment of absolutes, using relevant examples to awaken Christians to the world's desperate hunger for absolute truth -- and the church's duty to proclaim it.
Exploiting Black America

How the Black Leadership Exploits Black America
The civil rights establishment, contends Rev. Jesse Lee Peterson, has made a career off the downturn of America's inner city, promising solutions but offering only a Band-Aid. Peterson's is a platform of empowerment, teaching individuals and families how to tap into the power within, rather than depending on handouts. Chronicling the failure of the welfare system, denouncing the notion of reparations, citing problems within black churches, and even condemning current black "leaders," Peterson argues that the crisis we face is spiritual, and no economic solution will suffice. He skillfully weaves the realms of politics, culture, psychology, and religion into this profound and relevant book.


What Muslims and Multiculturalists Don't Want You To Find Out...

Trifkovic gives us the unvarnished, "politically incorrect" truth about Islam -- including the shocking facts about its founder, Mohammed; its rise through bloody conquest; its sanctioning of theft, deceit, lust and murder; its persecutions of Christians, Jews, Hindus and other "infidels"; its cruel mistreatment of women; the colossal myth of its cultural "golden age"; its irreformable commitment to global conquest by any means necessary; the broad sweep of the military, political, moral, and spiritual struggle that faces us; and what we must do if we wish to survive.
Get the details and documentation for hundreds of "politically incorrect" facts about Islam -- such as:
The Koran sanctions pillage, looting, ransom, and the rape of captive women as an incentive to join in jihad or "holy war"
The Koran assures the Muslim the right to own slaves by purchasing them or as a bounty of war. Mohammad had dozens
What Motivates A Terrorist?

What motivates a terrorist? Never before has one book contained such valuable information about the Islamic faith, beliefs and traditions as well as historical and political insights. Dr. Mark Gabriel shares the truth and tells you everything you need to know about Islam.
In Islam and Terrorism, you will learn:
* How Muhammad practiced Holy War and why it continues today

* Why the verses about Jihad cancel out the verses about tolerance, causing contradictions in the Quran

* What Muslims believe about earning your way into Paradise (heaven)

* Which radical teachings in black market books are being read by Islamic terrorists today

* Why the United States has become the target of Islamic terrorism

REVEALED:
How "gay rights" activists are working to destroy marriage and the family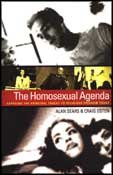 For more than 30 years, homosexual activists have aggressively pursued their vision of an America in which their behavior is affirmed and their critics are silenced. Now, with the Supreme Court's recent ruling in Lawrence v. Texas, they stand on the verge of total victory. But all is not yet lost. In this providentially timed book, Alan Sears and Craig Osten of the Alliance Defense Fund -- a legal organization that works to defend traditional family values, religious freedom, and the sanctity of human life -- expose the homosexual agenda and its fight for "gay" rights for what it is: an unrestrained, no-holds-barred attack on the family and religious freedom.
"May well be the most significant religious liberty issue of our times." -- R. ALBERT MOHLER, JR., President, The Southern Baptist Theological Seminary
"Clear, irrefutable, convincing, and frightening . . . This book could be the instrument that will reverse the tide of influence that this devastating vice is having on America today." -- D. JAMES KENNEDY, Senior Minister, Coral Ridge Presbyterian Church
"Riveting . . . As this book shows through its review of the aggressive march of militant homosexuals through the courts, the legislatures, cultural institutions, and churches, the pretense of homosexuals' 'tolerance' of non-homosexuals is over." -- The Wanderer
Kinsey:
The Man Who Perverted Innocence

Though Kinsey has been dead since 1956, the "Kinseyan influence" is even stronger today. Kinsey was never an unbiased researcher. He was a "covert crusader." Like Lewis Carroll's Red Queen, Kinsey already had a "sentence" in mind for America, before his research was compiled and before the scientific "verdict" could be rendered.
Dr. Reisman offers this book in an effort to end the 50-year Kinsey era of "hush and pretend" which has been so devastating to women and children. Read and discover for the sake of your children and children everywhere!
They're Here...

"The 19 hijackers who invaded America on September 11, 2001, couldn't have done it without help from the United States government," charges Michelle Malkin in this eye-opening expose. "We unlocked our doors, spread out the welcome mat, and allowed these foreign visitors to plot death and destruction in the comfort of our home. And they could do it again in a heartbeat."
You will not read a more shocking account of just how porous America's borders have become -- and remain -- than this book. Based on exhaustive research and interviews with dozens of current and former immigration officials...
This is a must read...get it HERE
How Jihad Still Threatens America

Islam claims to be a religion of peace and tolerance, yet the fact remains that jihad, or Islamic holy war, is growing faster than ever. In his new book, Onward Muslim Soldiers, Robert Spencer reveals exactly why this is the case. He shows how jihad warriors have penetrated and established themselves in the American homeland and how they are quickly gaining a hold in Europe, spreading values of hatred, violence, and intolerance as they go.
Spencer, a student of Islam for over twenty years, gives a unique perspective on the fundamental bases and truths of Islam, focusing on facts that the media often disregards or denies, including:
1.Why Iraqi democracy will have a tough time no matter how long American troops stay in the country
2.The American Left: its unholy alliance with radical Islam
3.The concept of jihad: how it poisons chances for peace in Israel and in other conflicts
4.The myth of Islamic "tolerance" in history and today
With a special focus on how the jihad propagates terrorism, Spencer provides a timely, reasoned look at the threats of radical Islam and a list of steps that must be taken to combat jihad terrorism before it's too late.
Daniel Pipes

Middle East Fears of Conspiracy
The Hidden Hand is a remarkable work of scholarship. Daniel Pipes, the editor of the Middle East Quarterly and a specialist on Arab affairs, has pulled together an enormous body of writing from a broad array of sources--journals, memoirs, speeches, and sermons--to illuminate a salient aspect of Middle Eastern political reality: the pervasive belief in Muslim and Arab society that conspiracies and secret dealings--a "hidden hand"--lie behind much of what happens in the world, and that these explain the relative superiority of Israel and the West.
Let Boys Be Boys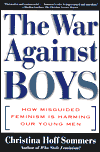 It's a bad time to be a boy in America. The "girl crisis" has been seized upon by some feminists and has been suffused with sexual politics. Under the guise of helping girls, many schools have adopted policies that penalize boys, often for simply being masculine. Sommers says that boys do need help, but not the sort they've been getting. They need help catching up with girls academically. They need love, discipline, respect, and moral guidance. They desperately need understanding. They do not need to be rescued from masculinity.

In Our Midst...

Militant Islam Reaches America
Long before September 11, Daniel Pipes publicly warned Americans that militant Islam had gone to war against America. Drawing on his thirty years of intensive research on Islam, he shows the vital distinction between the faith of Islam and the ideology of militant Islam. Among his findings: militant Islam has much in common with fascism and communism; about one in every eight Muslims worldwide supports militant Islam; 70,000 Al-Qaeda accomplices remain at large in over fifty countries; Michael Jackson and Madonna are, in the eyes of militant Islam, "cultural terrorists" who should be brought to trial; militant Islamic groups have raised $1.3 million for the defense of indicted murder suspect Jamil Al-Amin (formerly H. Rap Brown) One of the most far-reaching examinations of militant Islam written to date.
Treason

Liberal Treachery from the Cold War to the War on Terrorism
"Liberals' loyalty to the United States is off-limits as a subject of political debate. Why is the relative patriotism of the two parties the only issue that is out of bounds for rational discussion?"
In a stunning follow-up to her number one bestseller Slander, leading conservative pundit Ann Coulter contends that liberals have been wrong on every foreign policy issue, from the fight against Communism at home and abroad, the Nixon and the Clinton presidencies, and the struggle with the Soviet empire right up to today's war on terrorism. "Liberals have a preternatural gift for always striking a position on the side of treason," says Coulter. "Everyone says liberals love America, too. No, they don't." From Truman to Kennedy to Carter to Clinton, America has contained, appeased, and retreated, often sacrificing America's best interests and security. With the fate of the world in the balance, liberals should leave the defense of the nation to conservatives.
With Slander, Ann Coulter became the most recognized and talked-about conservative intellectual of the year. Treason, in many ways an even more controversial and prescient book, will ignite impassioned political debate at one of the most crucial moments in our history.
Can America
Survive?

The Rage of the Left, the Truth, and What to Do About It
America is under attack. The threat of bombs and bullets and every other form of terrorism comes mostly from Islamic extremists. But a powerful threat also stems from homegrown anti-Americanism from the left of the political and cultural spectrum. From "comedians" working for leading Democrat candidates who call the American President " . . . a piece of [expletive deleted]," to the candidates themselves who try to whip up feelings of victimization and anger in ethnic minorities, to universities that preach that America is the main villain on Earth and that 9/11 was richly deserved . . . a full-court left-wing propaganda press is on to drag America through the mud and sap America's resolve to fight and win the war on terrorism.
Why? Where does this anger at America by Americans come from? Certainly not from reality, since all available historical comparisons tell us that America is the most enlightened, open, and forgiving of nations and the one that offers the most opportunity to its citizens. Read more here...
Anti-White Racism

The anti-white racism of the Left remains one of the few taboo subjects in America. A former confidante of the Black Panthers and author of Radical Son, David Horowitz lays bare the liberal attack on "whiteness"-the latest battle in the war against American democracy. His passionate and candid account of contemporary racism reveals that the Cold War has come home. paperback
NAVY SEALS

"The Warrior Elite is the first book that captures how the SEAL spirit is tempered. It reveals all the grit, sweat, mud, and blood of BUDS training -- real-time, down and dirty. This is a must-read if you want to know what becoming a virtual warrior is all about." -- Governor Jesse Ventura, BUDS Class 58

"A wonderful, thought-provoking book by Dick Couch and a quick study of human personalities; his conclusions are optimistic and uplifting." -- Vice Admiral James Stockdale
The Havoc of Liberalism

From Rage to Responsibility: Black Conservative Jesse Lee Peterson and America Today is a no-holds- barred analysis of contemporary liberalism and the havoc it is wreaking in American culture. From race to abortion, to feminism, immigration and education, the ideas and public policies produced by the Left are hindering self-government and damaging lives, say Peterson and Stetson. paperback
Embracing Our Roots

There is a tug of war going on for the future of America. At one end of the rope are those who think America is a secular nation; at the other end are those who believe religion is at the root of our country's foundation. In this paperback release of the thought-provoking America's Real War, renowned leader and speaker Rabbi Daniel Lapin encourages America to re-embrace the Judeo-Christian values on which our nation was founded, and logically demonstrates why those values are crucial to America's strength in the new millennium. Using his thorough knowledge of Christianity, history, political theory, and business, Rabbi Lapin provides a sound defense for Christianity as the backbone of our society, maintains that our best days lie ahead of us, and offers a road map for getting there.
More Guns

Multiple regression analyses are rarely the subject of heated public debate or 225-page books for laypeople. But John R. Lott, Jr.'s study in the January 1997 Journal of Legal Studies showing that concealed-carry weapons permits reduced the crime rate set off a firestorm. The updated study, together with illustrative anecdotes and a short description of the political and academic response to the study, as well as responses to the responses, makes up Lott's informative More Guns, Less Crime